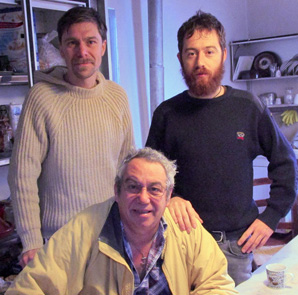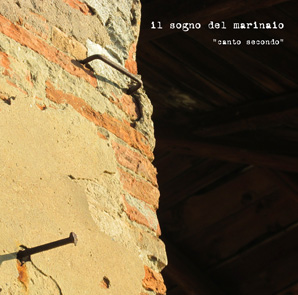 "canto secondo" is the name of the second album from il sogno del marinaio ("the sailor's dream" in italian) which is a trio made up of stefano pilia on guitar, andrea belfi on drums and mike watt on bass. the plan is to have it come out august 26, 2014 on clenchedwrench and then two weeks later begin a fiftythree gigs in fiftythree days u.s. tour in support of it.

"la busta gialla" was the debut album from il sogno del marinaio and was released at the end of january 2013 which is a little trippy cuz it was recorded more than three years before! a big part of the reason for this was the juggling of all three band members' busy schedule but also in the way it was made: lots of overdubs and guests were involved... it was more a process of creating a work rather than capturing a band cuz the band had been together only a week when the basic recordings were made! it was also thought good not to put the album out 'til there was also time to follow it up w/a europe tour which is what happened and was great success. the experience was inspiration to immediately plan for a second album, informed w/the lessons learned.

much thought was given to next album plan... il sogno del marinaio had been invited to be part of the all tomorrow's parties "end of an era" festival on december 1, 2013 so it was decided to travel the next day from camber sands in england to bologna in italy where not only does guitarist stefano lives but also the home of vacuum studio and bruno germano who had been chosen to be the man to record and mix. prac and record is what went on for eight days and from that twelve tunes evolved, both andrea flying home to berlin in germany and mike to his pedro pad in california on december ten. all wasn't done though cuz none of the spiel had attempted - that was all flown in later via internet to bruno from each cat's home recording setup so in that way it shares some of the "la busta gialla" experience but for the most part, it was just the three band members in vacuum studio (which is built in an old barn just north of town) playing mostly in real time - no guests on this album, a reflection of more time playing together live as a trio. mike had suggested ahead of time for all three to bring in compositions that reflected these experiences. for this reason "canto secondo" (which means "second song" or "second part of a long poem" in italian) is much different than "la busta gialla" which seems only natural - it's indicative of where the band is now on their journey. in april of 2014 bruno mixed the album's ten tunes (two of the twelve recorded had been plucked for a record store day seven inch) and mike whupped up the art using photos of both the barn and the farmhouse next to it (where everyone konked and chowed) during the time spent there.


what next follows are notes from each il sogno del marinaio band member regarding this album...

from andrea belfi:

"Canto Secondo" is an album about animals, boats, freaks, barns, mountains, and a lot of travelling. It has a strong vaudeville influence, where it brings coherently a lot of different musical genres and styles (acts?!) together. It has drama, comedy, meditative moments, crazy messed-up noises, harshness and fun. It has weird tangos, waltzes, African blues style guitar arpeggios, warm and deep rumbling drumming, narrative tunes, counterpoints, funk bass lines and poems.

The album has been recorded at Vacuum studio, an old barn converted in a nice studio on in the outskirts of Bologna, Italy. While recording the barn represented a metaphor of a sort of big ship which allowed us to sail and dock to many musical ports. On this imaginary boat we've been playing and helping each other building up our own tunes, in order to create a solid and distinctive "Il Sogno del Marinaio sound world" made up of our own different musical experiences and perspectives.

"Animal Farm Tango," the opening track for "Canto Secondo" is inspired by the George Orwell's novel and has a rich and grotesque fauna of beasts dancing to the beat of a weird tango. The 7/8 slow and loose rhythm section of "Alain" serves the "singing" guitar theme over the whole first instrumental journey of the record. Nanos' Waltz" is a whispered movie for all ages (and sizes). Skinny Cat" brings the listener to a unusual journey from a sunset horse ride over a big and dry plane, then onto a roller coaster ride, then to a barge trip over a quite fjord during sunset accompanied by a bass guitar solo. Mountain Top." The perfect track to put on while trying to climb to top of a mountain, wherever you are in this planet, if you can make it in a three and a half minutes. "Il Sogno Del Fienile" . The coldness of the barn freezed up all the song's parts together. The good food gave the necessary energy to cook "The Barn's Dream" (the meaning of "Il Sogno Del Fienile" in Italiano) up! Auslander" is about wandering around Berlin on a cold but sunny winter day, staring at the sky and considering the possibility to get a sort of a message from other forms of life form outer space. Stucazz?!!" is a song about recalling grandfather's Italian speaking yelling words and screaming them loud, backed up by the Stax house band. "Sailor Blues" is another instrumental journey in two parts with an interlude in between. Blues, of course, at the beginning that falls apart and then becomes the perfect soundtrack for a sailor's dream. "Us In Their Land" gives a last touch of drama and tension to the album and space for drums and guitar solos. More wild animals populate this story... a strong ending indeed! Hey Presto!


from stefano pilia:

All of us brought and developed ideas after our first european tour we did in february-march 2013. The tour has been a great experience to affinate the sound of the band and to develop in our minds what were the elements that we feel more appropriate for the project. The tour and the consequent canto secondo are a further and not definitive step in the research of our identity as a band, as a one. the common areas of three people playing and making music Like our previous chapter "La Busta Gialla," "Canto Secondo" explores different territories But it does this with a more developed feeling of the live band performance and a better melted common vision of the music we want to play which is something that come out from a process of sharing experience and ideas and adapt ourself to each others. In these aspects and reasons "canto secondo" express a better coherent and expressive vision of what we are together.

We recorded at fratello Bruno Germano's vacuum studio. Here is also the place i live with Bruno and our others four housemates. It is an old and big countryside house located in the fields just outside the city of Bologna and very close to the town prison. The studio has been created and set by Bruno in what was the barn just outside the house. It is a very good place to stay and play music. a bit cold and humid during winter.

We recorded initially the four pieces we already have in our hands: Sailor Blues, Us In Their Land, Auslander and We Come To Learn. And then we introduced each others some ideas to be worked and arranged together. We made some selections of what we had and then we started to work closely to every single piece we choose. We have been working on a single piece for a while recording some quick takes to hear the arraignments and the sound we found out and then correcting what we were feeling not ok or expressive or unbalanced for the piece. All of this with the help of Fratello Bruno behind the recording desk. When we felt ready for some "official" take of the piece, fratello Bruno played record on his multi track tape machine and then we chose the right one. With this method we had a couple of pieces a day at least. What I like of this process is that the recordings sound very fresh and spontaneous even if you are forced to take quick decision. I guess this avoid the kind of over-thinking which often makes recording performance not enough expressive or "alive."

This method for us is based on a strong necessity. We all live far and we cannot meet often to play and develop music together. We wanted to work and record the much as possible in those eight days we had. Animal Farm Tango - Alain - Nano's Waltz - Skinny Cat - Mountain Top - Il Sogno Del Fienile - Auslander - Stucazz?!! - Sailor Blues - Us In Their Land... So this is Just a presentazione and as fratello Mike would say, there is "the whole fucking enchilada" to listen to.


from mike watt:

I gotta tell you, it's a real blast for me to get to record w/both andrea and stefano, they are beautiful brothers to me. I brought in five pieces for this and damn if they weren't big time creative adding their own ideas to my bass stuff... see, I compose mainly on bass to serve as a launchpad or a springboard for the cats I'm playing w/and damn if these cats didn't go hogwild when I brought it - much respect!

the pieces andrea and stefano brought were interesting challenges for me and my bass - both were very patient w/me and I could try many approaches 'til one felt right for everyone. this band is big time a collaboration so we use consensus a bunch when developing stuff but at the same time it feels very organic to me, very natural. andrea and stefano are very candid about their feelings and I can dig it. they're both like twenty years younger than me but that actually means nothing - in fact most times I feel like the student in their classroom, a great thing. I've said it before but they are most patient w/me, on many levels... remember that english is not their first language but damn if they ain't pretty good at it. I named one of my pieces "il sogno del fienile" which is "the barn's dream" in italian and I wrote it cuz I just had a good feeling we were gonna come up w/something that we'd dig, "stucazz?!!" is something I remembered my ma's pop saying (his people were from sicily) when I was a boy and all the many years later it just popped into my head on the tour last year when I was w/them - that was definitely a trip. I think andrea and stefano bring things out in me that maybe would be lost otherwise - not just old stuff but things in the moment too... hell, I'd even go as far to claim the future maybe too.

fratello knobman bruno was righteous w/both his perspective and direction, definitely the fourth man of the proj and a big reason for why this album sounds the way it does, not just technically but esthetically also - I think we all trusted him much and that a most happening thing to have our situation. he knows his pad really well and we never had gear hang-ups or periods where we couldn't be creative, much MUCH respect to him. not only the studio in the barn but the farmhouse right to it was beautiful and in fact, I never left - not one moment was I not either in there or in the barn or out in the field... I spent the entire time I was in bologna there and so many good chows everyone there cooked for me, crimony! everyone so kind to me, truly.


from bruno germano:

"Canto Secondo" recording sessions started on December 3rd 2013.

As fratelli Stefano, Mike and Andrea arrived here at Vacuum (and at the house), i knew very little about what was going to happen (musically speaking), apart from knowing that fratello Andrea was going to play drums, fratello Mike would have had the bass in his hand, and fratello Ste would have been playing guitar.

They had four songs they'd been playing live during the tour for their first record "La Busta Gialla"; everything else was going to be composed in the studio starting from sketches of bass, guitar or even midi keys.

I knew for sure that i wanted to make a record "the old way": live and on tape.

I set up the drums in the live room and put the amplifiers in iso booths behind the control room. This way every instrument was isolated, so that we could overdub or mute anything at anytime without worrying about bleed.

The process of composing was very quick: each song took a few hours to be composed and practiced. I'd be sitting in the control room listening most of the time, trying not to interfere with the creation process, yet giving opinions when i thought an outside point of view would help getting the right part with the right sound.

Mixing was a lot about preserving the live feel and freshness of the takes, which were very dynamic and had almost no overdubs, except for vocals, very few double tracked guitars and a trippy guitar solo from fratello Ste on Sailor's Blues.

What came out is a solid record, expressing equally the musical soul of three different musicians playing as one. It also reflects the fun and enthusiasm each one of us had doing it.

What else can I say? ...I'm very proud to have been part of this!




il sogno del marinaio * * "canto secondo"

1) animal farm tango [belfi] 5'03
2) alain [belfi] 4'15
3) nanos' waltz [watt] 3'18
4) skinny cat [pilia] 3'44
5) mountain top [pilia] 3'26
6) il sogno del fienile [watt] 3'09
7) auslander [belfi] 3'56
8) stucazz?!! [watt] 2'55
9) sailor blues [pilia] 5'16
10) us in their land [pilia/watt] 3'53






andrea belfi: drums/spiel stefano pilia: guitar/spiel mike watt: bass/spiel


recorded december 3 - 10, 2013 and mixed april 2014
by bruno germano at vacuum studio in bologna, italy
produced by il sogno del marinaio
mastered by john golden

publishing:
1, 2 & 7 belfi (siae)
4, 5 & 9 pilia (siae)
3, 6 & 8 tHUNDERsPIELS (bmi)
10 pilia (siae) & tHUNDERsPIELS (bmi)

clenched005/orgm-2025
© 2014 clenchedwrench - clenchedwrench.com
distributed by org music - orgmusic.com





"canto secondo" lyrics


"animal farm tango" (belfi)

this is the animal
farm tango

humans
are not welcome
in the sick
animal farm tango
 
I open the red wooden curtains 
I look at the dance of the beasts
it makes me laugh as they swing
their wings, paws and feet
 
red for her
black for him
 
as they swing
cheek to cheek
in the barn
of the queer
 
this is the animal
farm tango
humans
are not welcome
in the sick
animal farm tango
 
this is the animal
farm tango
where humans
are not welcome
 
in the animal farm tango



---
"nanos' waltz" (watt)
a small step for you you
might be a big step for a nano
a big step for a nano
step right up
step
step up
step
step right up
step closer, you get bigger
bigger closer
a waltz for the nanos
step right up
closer
step up
bigger
step right up
step closer, you get bigger
bigger closer
a waltz for the nanos
step right up
closer
step up
bigger
step right up
a small step for you you
might be a big step for a nano
a big step for a nano
step right up
step
step up
step
step right up
---
"mountain top" (pilia)
so many roads so many roads
to ride the storm
to mountain top
so many clouds above your head
and many seas 
to sail ... to death
I don't like living with muddy socks
but gently roughly and edgy waltz
and for the weight of heavy roughs
and I am just avoiding a rocky top
lions lions of my heart
tiger tiger of my arm
lizard lizard of my soul
carrycarrycarry me home
and I climbed up a rock
and I come to the sea
like a whale on the beach
and I looked at the sky
and then down to the ground
for this whispering bliss
I have my brothers with me
here is the top
---
"il sogno del fienile" (watt)
you've heard of "born in a barn"
well, this was born in a barn
where a prison ain't far
and it got kind of cold
but not here in the hearth
where this baby got birthed
from the belly it burst
we were howlin' like wolves
adding three to make one
supplementing the sum
w/some direction from
fratello bruno
w/our fists in the air
shleping what we prepared
man-alone, now we share
and make this dream alive
every fire we lit
took a bit to get fit
but never effort wasted
learning fratello mike
righteous chows that we had
a happening part of the plan
focused there at the pad
my blub burning bright!
---
"auslander" (belfi)
das boot fahrt auf dem wasser
zwischen kreuzberg
treptow und neukolln
eine meldung aus dem weltall
scheint entfernt
Ich vermute
dass ein schiff in den wolken zu sehen ist
das mich in und aus berlin fuhrt
der kanal ist gefroren
die stadt andert ihre form
entfernt
auslander?
---
"us in their land" (pilia)
oh red lizard in the sun
fruit bat flies back in a dark
pool among a sailor dream
swimming swift a split of sea
oh you bird of morning sun
take my breath into the land
skies and clouds above this three
oh my sailor
sailor dream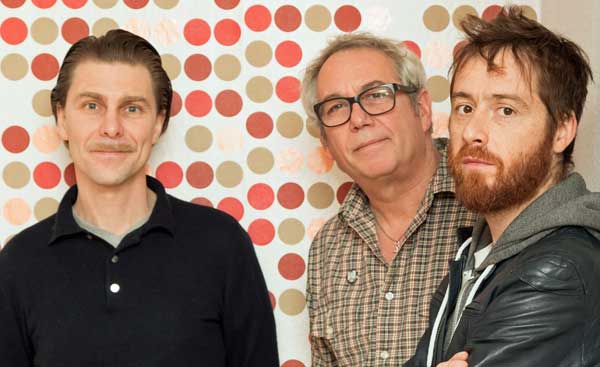 click here for hires shot of il sogno del marinaio by alfred jansen on october 28, 2016
(l to r: andrea befi, mike watt + stefano pilia)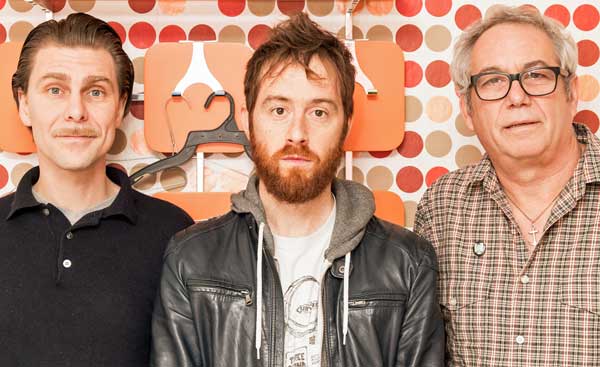 click here for another hires shot of il sogno del marinaio by alfred jansen on october 28, 2016
(l to r: andrea befi, stefano pilia + mike watt)





what do people have to say about this album?

and

what do the people in il sogno del marinaio have
to say about this album?


the vinyl district

stereo embers

punknews.org

figure 8 magazine

the big takeover

steel for brains

dangerous minds

innocent words

acoustic music

media mikes

examiner.com

elmore magazine

pitchfork

consequence of sound




On the march again... the animal farm stage flies open for the carniVal tango, the unmistakable bass guitar is the engine of this space ship.

IL SOGNO DEL MARINAIO "CANTO SECONDO"

(plus a two-sided photo album inside the sleeve!)

Mike Watt, like James Brown, is the hardest working man in show business. When not on tour with Iggy Pop, he forms his own outfit and travels the U.S. we jam econo style and all parts of Europe, this time camping out with his amicos around a cookout hobo fire in Italy or setting up the equipment on well known stages throughout towns in Europe. It is difficult for my mind to keep up with Watt and his traveling ban as well as the music which immediately makes an air glittering atmosphere of excitement like when one walks into a carnival. In fact, I have to make the term carniVal to describe this genre; were anything goes... Coltrane licks Cage's cotton candy. I envision with this word, not only the exiting atmospherics but the shapes, sizes, appearances of people, animals, rides, puppetry, clowns, stuffed animals and glitter on the stage of life. They become a trio setting that virtuoso stage of drum beat guitars to shape the effervescent excitement into message.

There's some doo wap a doo to ring the bell, some snappy gypsy and blues bang. It's the fire bliss of symphony that wreaks sound like you've never heard with a signatory D. Boon riff for punctuation. I have made the term "carniVal" to describe a genre that creates the mystical atmosphere when one walks through the carnival grounds of the world and sees the "wings paws and feet" of beast & human. Has nothing to do with the cruise... necessarily. You'll want to spin this special pressing every time you want to fly. "Step right up!"


- Charles Plymell