(click here for mike watt hi-res promo shots)

(click here for mike watt bio - september, 2010 by uncle ray)

(click here for mike watt bio - october, 2005 by karen schoemer)



Mike Watt Bio - January, 2012 - written by Tina Clarke


"What can be romantic to Mike Watt?"

This question is from the song "One Reporter's Opinion." It first appeared on "Double Nickels on the Dime," the Minutemen's acclaimed 1984, 45-track, two record release; often named among the best and most influential albums of the 1980's. At the time of the song's recording, this query may have seemed rhetorical, as the band was an integral part of Los Angeles's explosive early punk and hardcore scene. By 1984, The Minutemen - - Mike Watt on bass, guitarist D Boon and drummer George Hurley - - had already earned a reputation for fierce, rapid-fire performances. Their songs were abrupt gusts of genre-bending music, with concise, satirical lyrics that probed and skewered topics like Reagan era politics and commercial popular culture.

Yet nearly 30 years later, this question continues to haunt Watt, although it's long been freed of any presumed irony. In the intervening years, it has become increasingly evident that much of this bass player, songwriter and "spieler's" life is in fact very romantic to Mike Watt.

His passions are observable in everything. It's heard in Watt's musical signature - an extraordinarily lyrical bass playing style - a singular sound that leaps from any of his many recordings. It's visible in his mystical veneration of the natural world, revealed by equally allusive photos of seagulls, sea lions and sunrises taken during his daily "crack of dawn" biking and kayaking excursions in San Pedro, California, his beloved hometown. (Some of these exquisite images were the subject of a 2010 solo exhibition, "Eye-Gifts From Pedro" at the Track 16 Gallery in Santa Monica, CA., and are part of his book, "On and Off Bass," Three Rooms Press, 2012). His romance extends to the ordinary, too, observable in the way he describes his state of mind, meals, gigs, friends and daily activities in his compulsively detailed tour diaries available on-line since 1997 (before the term "blog" was coined), on his self-built and meticulously maintained website: hootpage.com, which he launched in 1996.

Watt is a cultural omnivore. Especially over the last decade, his openness (and eagerness) to devour new musical experience has become increasingly audible (and visible) in the dozens of projects and live performances he's participated in with artists as divergent as Yoko Ono, Black Moth Super Rainbow, Petra Haden and Kelly Clarkson.

With the songwriting and recording process freed from terra firma through digital technology and internet file sharing, Watt's been able to contribute bass to recordings by friends and fans from all over the world, who have contacted him through email and social media. He's also sought the partnership of musicians he's encountered on his own: through his (since 2001) web-based radio series "The Watt from Pedro Show," or met on tour, particularly since 2003 when he began playing bass with the perpetually globetrotting Iggy and the Stooges. These opportunities have yielded several ongoing collaborations, including multiple recordings with members of the Japanese band Migu and England's The Go! Team. To accommodate this explosion of creativity, in 2011 Watt launched a new label, clenchedwrench (www.clenchedwrench.com), his first DIY imprint in almost three decades. Its first release was "Hyphenated Man," the third of his "operas," in March 2011. The label has since released "Dos y Dos," the 4th (Mike Watt and Kira Roessler) Dos album (2011) and "Speilgusher" (2012) with poet, rock critic and Blue Oyster Cult lyricist Richard Meltzer. "La Busta Gialla" by Il Sogno del Mariano, a trio pairing Watt with Italian musicians Stefano Pilia on guitar, and Andrea Belfi on drums, and several more collaborative recordings are scheduled for release in 2012.

History is ultimately a revisionist art form. Biography, too, is less ambiguous and more subjective in the rearview mirror. Glancing backward, it might appear obvious now how Watt has grown as a musician and as a man. His legendary big heart, acute intelligence and irrepressible curiosity, combined with his strong work ethic and a much-admired artistic authenticity have secured his reputation. He is one of the most well respected musicians of the last three decades. He's also one of the most dearly loved.

In person, Watt is a man of sharp contrasts, frequently veering from extremely silent and shy to bearishly loud and argumentative. However, despite his penchant for debate and in his own words "an unfortunate personality," most anyone who has ever encountered him remembers him fondly. His renown as a sweet guy follows him everywhere.

Admittedly, too, Watt has always had a hankering for mysteries, especially those that remain unsolved. He also likes the principle that for everything revealed something else is concealed. For those reasons, it's not surprising that although one is often initially met by Watt's outsized enthusiasm for music, books, nature and people, it barely masks an underlying sense of sadness and loss. So in considering this self-mining, however symbolic, mostly autobiographical artist, the answer to the question "Who is the man behind the curtain?" seems to get both more vivid and more elusive with time.

Watt's father was an18 year-old enlisted man from Red Bluff, CA, who had deep roots and family secrets in Arkansas and his mother was a 21 year-old aspiring visual artist, from an immigrant Italian family who had moved years earlier to Peoria, Illinois, from a Wyoming mining town, when there was nothing left to mine. Some of his maternal ancestors had been involved in vaudeville. His parents met in Chicago, where he was also conceived.

The event of his birth might now seem like an omen: Watt was literally ripped from his mother's belly via C-Section at 4:30AM, Friday, December 20, 1957, on a naval base in Portsmouth, Virginia.

Watt's family moved as frequently as the Navy ordered which was often annually, before settling in San Pedro, CA, the harbor of Los Angeles, in 1967. Rather, his mother settled there - refusing to move her family again - now including Mike and two younger sisters. His parents divorced when he was 12, and without his father, they moved from the relative security and integrated community of the local navel base to a public housing complex across town.

As if in a modern fable, one day in 1971, a 13 year-old Watt was walking through a local Pedro park when another adolescent jumped on him from a tree, asking, "Are you Eskimo?" The other kid's name was Dennes Boon. After realizing the mistake, Boon let loose a stream of verbal wit. Watt thought he had just met the smartest human on the planet. (It wasn't until later; he discovered Boon had given a word for word recitation of some of George Carlin's comedy routines.) It didn't matter: a great friendship was begun.

When Watt took up playing bass, it was largely to keep him and his new best friend off the sketchy streets of Pedro. Boon's mother, Marjorie suggested they start a band to keep them occupied indoors. (In the early 1970's, this was definitely not an activity many parents would encourage.) Mrs. Boon decided that her son would play guitar and his new friend Mike would play bass.

At the time, Watt and Boon's exposure to rock music was limited to FM radio (in those days play lists were less restrictive than now), records they collected - The Who for Mike, Hank Williams for Boon - or heard (Mike's mom liked Bob Dylan) and the big selling acts that came to town. Watt's first concert was T Rex at the Long Beach Sports Arena, watched from the cheap seats far from the stage. When he first started playing, he just removed two strings from a guitar, because that's what a bass guitar looked like. Watt was16 before he had saved enough money to buy his first real bass.

If the way a bass looked was confusing, it was even harder to imagine how a bass sounded, because on most recordings of the era, the bass was buried in the final mix. So the players Watt got to know and like were ones he could really hear: The Who's John Entwistle, Cream's Jack Bruce, Black Sabbath's Geezer Butler, Sly And The Family Stone's Larry Graham and Motown session player James Jamerson. Together, with Boon's younger brother Joe on drums they played covers of popular rock songs at events like local bar mitzvahs and on one memorable occasion, half time at a San Pedro High School football game. They were so "different," they had to be rescued mid-performance from the field (and from an angry crowd) by Boon's dad.

When they graduated from high school in 1976, "punk," was a very newly minted genre of rock music; an unruly reaction to the increasing commercialism of the music business. Ironically, over the years, punk has come to represent a specific sound (fast-paced, few chords, imperative vocals), but when it first emerged it was more of an attitude, a freedom to explore, extract or combine any kind of music and visual appearance, as long as it was genuine and unfiltered, from the head, the heart or the groin. You didn't even have to know how to sing or use an instrument to be "punk rock"; you just had to play like your life depended on it, each and every time.

In the late 1970's, few musicians in Pedro wrote their own songs and if they did, they tried to copy what was already popular. With the advent of punk, especially inspired by new British bands Wire and The Pop Group, Boon and Watt realized they could write their own songs and invent their own sound In 1978, with drummer George Hurley and vocalist Martin Tamburovich, they formed The Reactionaries and then in 1980, the trio of Boon, Hurley and Watt became the Minutemen (after a couple of gigs with drummer Frank Tonche). They were quickly embraced by the LA "punk" scene, which by then included Black Flag (who took them on their first European tour in 1983), The Germs and Circle Jerks, visual artist Raymond Pettibon, who created many of their flyers and album covers, and independent labels, like their own New Alliance Records, which released Husker Du's first single, and SST, for whom the Minutemen later recorded.

From the start, even amongst their super freak punk peers, the Minutemen displayed a very original style. Their extremely brief and efficient songs were a kaleidoscope of musical genres, from the short bursts of what has now come to define punk to psychedelic, hardcore, folk and jazz, while referencing wildly dissimilar artists like John Coltrane, Captain Beefheart, Creedence Clearwater Revival and Blue Oyster Cult. Their lyrics were succinct, too, yet eloquent. Their name itself was a play on words: they were (mahy-noot) men, blue-collar working stiffs who loved great works of fiction, history and politics and who could toss astute barbs at Ronald Reagan, Michael Jackson and others. They had their own lexicon known as "Pedro-speak." Words and phrases like "we jam econo" "mersh" and "this band could be your life" still endure three decades later.

From early on Watt's lyrics were especially pre-occupied with the individual. Rather than writing anthems for an unknown public, he wrote about himself, initially as "I," then later in the third person as "Watt," often riffing in an abstract beat-poet style on fleeting thoughts, mundane personal experiences, books and authors he loved - particularly James Joyce - and his own optimistic ideals.

From 1981-1985, the Minutemen recorded 4 albums and 8 EPs, cheaply and quickly. It wasn't until 1984 that they were earning enough money for Watt to quit his various day jobs, which by then included cable TV installer, electric company meter reader, dishwasher and paralegal. Ironically - much like the music business today - because of modest sales, they saw their records as "flyers, " or advertising for their tours, which were also done on the cheap, multiple bands, one van, no or few days off. As Watt still says: "If you're not playing, you're paying."

In 1985, Watt began experimenting with playing bass in a duo with former Black Flag bassist and then girlfriend, Kira Roessler, with whom he had also begun writing songs. Dos, as they are known, has continued to perform and record occasionally ever since, with their fourth album, "Dos y Dos," mixed by Yuka Honda (Cibo Matto, Plastic Ono Band), released in 2011. Over the years, Dos has been quietly ferocious, serving as the breeding ground for new ideas, songs and virtuosity.

On the verge of widespread recognition, The Minutemen had just concluded a US tour (opening for then rising stars REM), when D Boon died in a van accident on an Arizona highway early in the morning of December 22, 1985. Watt had celebrated his 28th birthday two days earlier.

For months after, Watt was grieving hard, unsure if he would or could continue making music without D Boon, his best friend and muse. In the spring of 1986, aware that Watt was a Madonna fan, Sonic Youth invited him to contribute a track to "The Whitey Album," their Ciccone Youth side project. He delivered a frenzied, 4-track, solo version of "Burnin' Up." It was to be his first post-Minutemen recording.

Also in 1986, Ed Crawford, a then 21-year-old guitarist and fan from the Midwest (Ed fROMOHIO) heard (inaccurately) that Watt was looking for musicians with whom to start another band. He got Watt's (then) listed phone number and drove directly to Watt's tiny apartment in Pedro. For the next several months, Crawford camped out on his floor until an understandably depressed and unsettled Watt agreed to form a band, with him and George Hurley. That trio, fIREHOSE (1986-1994), recorded 5 albums (3 on SST and 2 on Columbia Records), 2 EPs and did 20 tours, with Watt continuing to provoke and inspire a new generation of listeners as fIREHOSE rode the big new wave of college radio promoted "alternative" music.

Watt disbanded fIREHOSE in January 1994. By then, his 6-year marriage to Kira had also ended. Having been a member of a group since he was a teenager, Watt was ready to begin a new musical adventure: playing bass with lots of different musicians in lots of different configurations. In 1995 to much anticipation and critical acclaim, he released and toured his first solo album "Ball Hog or Tugboat?" The 48 friends who contributed to that recording included some of the most noted musicians of the era, including members of Sonic Youth, Pearl Jam, The Red Hot Chili Peppers, The Beastie Boys, Screaming Trees, Jane's Addiction, Nirvana, Dinosaur Jr. and Bikini Kill. Although to some it may have seemed like a canny all-star fan fest, the recording was a mutual love dance and it has since led to many more provocative collaborations.

In 1995, Watt also recorded the first of two albums with Banyan, Jane's Addiction drummer's Stephen Perkins revolving personnel, improvisational jazz influenced group, with whom Watt continues to gig with from time to time.

Eager for more new experiences, in 1996, Watt recorded and toured with Perry Farrell's Porno For Pyros, as a hired sideman or in Pedro-speak, "a side mouse." Also in 1996, Watt started playing live shows with the local "practice" band he'd established in 1993 with two longshoremen friends: keyboard player Pete Mazich and drummer Jerry Trebotic (with whom he would later form The Secondmen). Nicknamed the Madonnabes, the trio practiced Madonna songs to improve their chops. With the addition of two teenage dancers, from 1996-1999, the Madonnabes sporadically played live shows in and around LA, with Watt wearing a secondhand Nutcracker Ballet mouse costume and Mazich in a dress and blonde wig. Reportedly, Madonna attended one of their gigs in 1998. Watt was turning 40 in 1997 and as many approaching that peculiar milestone, he had begun reflecting on the past events of his life. That year he recorded and released the first of his three thematic "operas."
Contemplating the Engine Room" was oddly both a departure from and a return to Watt's roots. As a boy, he had been captivated by the Who's " A Quick One, While He's Away," their 1966 pre-"Tommy" 9-minute rock opera from "Happy Jack," their second US album release. Watt had also recently begun listening to the Saturday afternoon "Live From the Metropolitan Opera" radio broadcasts. The boldly emotional musical style and high drama of the 400-year-old genre intrigued him. Opera offered a new means of expression: a cathartic way to tell a whole story in songs linked together by a narrative theme.

Inspired by both James Joyce's all in one day opus "Ulysses" and "The Sand Pebbles," Richard McKenna's 1962 Naval themed novel and composed during his daily early morning bike rides around Pedro, Watt crafted a musical allegory, relating the story of his own life on the road with D Boon and the Minutemen to his father's life traveling the world in the Navy. Watt's father, who had died from cancer in 1991 (without ever having seen his son perform), had been a Navy Chief, whom for twenty years worked in the engine rooms of aircraft carriers including the Enterprise, and had served in the Vietnam War.

Contemplating the Engine Room" was also Watt's first foray into project specific ensembles; writing songs with different musicians in mind. For this opera, he assembled The Black Gang: Watt on bass and singing, LA's experimental (and future Wilco) guitarist Nels Cline and drummer Stephen Hodges (Tom Waits). The album was heartbreakingly beautiful, a musical momento mori. In songs such as "Liberty Calls!," "Breaking the Choke Hold," and "Shore Duty," Watt honored, celebrated and mourned the two most important men in his life.

He toured the album in the US and Europe throughout 1998, playing it almost 200 times. For various tour segments, Watt needed to replace members of the Black Gang due to scheduling conflicts, altering the band's name slightly each time to reflect the change in personnel, a habit he continues today with many of his project specific groups. In early 1999, he performed the opera one final time at the Viper Room in LA. At the show's conclusion, in a highly dramatic public gesture, Watt had the beard he had grown since the opera's first performance 16 months earlier, shorn on stage. Although he has not played the opera since, Watt keeps the beard in his kitchen freezer.

Seeking another new challenge, for awhile, Watt talked about writing "Purr-man" an album length song cycle for organ, bass and drums, inspired as much by jazz organist Jimmy Smith's "The Cat," as the habits of his much beloved tabby, Man. But before it was begun, Man died in the summer of 1999. The cat, who was 18 years old, had been his constant companion since the start of the Minutemen. Watt was devastated; especially after the emotionally charged year he had spent performing "...Engine Room." This loss was another reminder that his days with D Boon were fading further from view and Watt never mentioned his "cat" project again.

In January 2000, right after performing with Banyan at the Winter Olympics in Salt Lake City, Utah, Watt suddenly fell dangerously ill. Returning to Pedro, he spent several weeks confined to his apartment, delusional with flu-like symptoms and fever. Then on February 28, an abscess in his perineum burst and he was rushed by ambulance to LA Country Medical Center dying from infection and loss of blood. He had no health insurance. Incredibly, with emergency surgery he survived, but he had a grim 3-month long recovery (and a $36,000 medical bill). Too weak to leave his bed or play bass, he spent the time reading; returning to books that had inspired and puzzled him in his youth including Dante Alighieri's "The Divine Comedy."

When he was finally able to work again, Watt said yes to everything. He created Hellride with Stephen Perkins and Porno for Pyros guitarist Peter DiStefano to reinterpret Stooges songs through the free jazz prism of John Coltrane. He DJ'd punk rock aerobics classes. After years troubled by the loss of others, he was suddenly really, really happy to be alive.

Watt decided to pursue his bass, organ and drum trio idea, but now it had a new narrative focus; his own Dante like journey into hell, agonizing convalescence and eventual arrival in paradise: his return to playing bass, biking and kayaking.

The project was delayed in early 2001 when Watt agreed to be a sidemouse again when Dinosaur Jr. guitarist J Mascis invited him to play on a world tour with J Mascis + The Fog. Watt also toured that year with the Jom and Terry Show, with Slovenly/Red Krayola's Tom Watson on guitar and Jerry Trebotic on drums.

A one-off gig at the Pukkelpop 2002 Festival in Hasselt, Belgium, covering Stooges songs as Asheton, Asheton, Mascis + Watt proved fateful. Five years earlier, in 1997, Watt and Ron Asheton, along with Sonic Youth's Thurston Moore and Steve Shelley, Gumball's Don Fleming and Mudhoney's Mark Arm had recorded Stooges songs as the Wylde Ratttz for the 1998 Todd Haynes film "Velvet Goldmine." The group again recorded together in the summer of 1998 but the resulting album was never released due to legal obstacles.

Unbeknownst to Watt, by 2002, Iggy had for some time considered reforming the Stooges and the Pukkelpop gig with Ron and Scotty Asheton was pivotal in the decision to ask Watt to join them (the Stooges original bass player Dave Alexander died in 1975).

So at the Coachella Festival in April 2003, Watt began his ultimate sidemouse gig, playing bass for the "re-ignited" Iggy and the Stooges. Although that band had initially been short lived, (1967-71 and 72-74), the Stooges had been a huge influence on both Boon and Watt as teenagers. And while healing from "that illness" in 2000, Watt had obsessively practiced the bass line for the Stooges' "Little Doll," to relearn how to play. In a weird way, he had been preparing for this role his entire life.

But this once in a lifetime opportunity required a commitment which meant Watt's own touring and recording schedule would now be dictated by when he wasn't playing with the Stooges. Through working with them, Watt has been exposed not only to the biggest and widest audiences of his career, but also to new musicians and new recording opportunities, including making an album with the Stooges, "The Weirdness," released in 2007.

In the winter of 2003, Watt's first book "The Spiels of a Minuteman," was published by Quebec independent, L'Oie De Cravan. Printed in French and English, it includes all of Watt's lyrics for that band, his 1983 Black Flag/Minutemen tour journal, essays about the Minutemen by Joe Carducci, Richard Meltzer and Watt, with art contributed by Raymond Pettibon.

In 2004, Watt finally recorded, released and toured his second opera, "The Second Man's Middle Stand," with The Secondmen - - Watt, with Pete Mazich on Hammond B3 organ and Jerry Trebotic playing drums - - a trio he had formed and been touring with since 2002. Based on his illness in 2000, Watt described, in often surprisingly tuneful, medical detail in songs such as " Piss Bags and Tubing," his excruciatingly slow, yet grateful recovery from his life-threatening perineum infection; the song cycle structurally mirroring Dante's three part Divine Comedy: 'Hell," Purgatory" and "Paradise."

Around this time, Watt again began to re-evaluate his life and career thus far. He had been so focused on playing live and touring, that seven years had passed between the releases of his two operas. Perhaps fearing his own eventual demise, Watt also knew recordings would later serve as proof of his existence. So he began making records, a lot of them, with as many people as possible, in as many on-going configurations as possible.

In 2005, Watt was invited to be part of The Unknown Instructors, a spoken word/ improvisational group formed by vocalist/saxophonist and poet Dan McGuire, along with Saccharine Trust's Joe Baiza (guitar) and Jack Brewer (vocals), and drummer George Hurley. It gave Watt a chance to play bass while "spieling" some of his poems to music that ranged from straight blues to garage rock to psychedelic and free form punk jazz; often to hypnotic effect. Working on a fourth recording in 2012, the group has already released three albums: "They Way Things Work," (2005); and with the addition of Pere Ubu vocalist David Thomas and artist/vocalist Raymond Pettibon, "The Master's Voice" (2007), and "Funland" (2009). Watt has also contributed to recent recordings by the Book of Knots, former Pere Ubu bass player Tony Maimone's darkly beautiful musical collective.

With Watt's participation (and blessing), "We Jam Econo," a feature length documentary film chronicling the Minutemen's story, produced and directed by Keith Schieron and Tim Irwin, was released in 2005. Also that year, the McNally-Smith College of Music in Saint Paul, Minnesota announced the establishment of the Mike Watt Bass Guitar Scholarship, a $1000 award, given to an incoming or current student who shows exceptional ability on bass guitar.

While performing with the Stooges at the 2006 Big Day Out Festival in Australia he met The Go! Team. He was especially impressed by their young female guitarist/multi instrumentalist, Kaori Tsuchida. With Kaori, Watt created the duo Funanori, which paired his bass with the sanshin, a traditional Okinawan three-stringed instrument, often likened to a banjo. They released a three-track EP in 2008. It was the first time Watt had written and recorded a whole project (with someone he hardly knew half way around the world) start to finish using the internet.

Also in 2008, along with Stooges sax player Steve MacKay, Watt recorded a un-titled album with Dublin experimental punk rock band Estel. Released in 2010, its four original tracks are named for the Gospels of the New Testament: "Matthew," "Mark," "Luke" and "John." It also included a cover of the Stooges "Fun House."

Before ever meeting them, Watt also began recording with Tokyo-based (Cornelius band members) drummer Yuko Araki and guitarist Hirotaka "Shimmy" Shimizu, adding bass to a track for an album by Migu, Araki's solo project. Watt was so inspired by these, two exceptionally talented players he began creating projects around them. He has since performed and recorded in Japan three yet-to-be released albums with them as Brother's Sister's Daughter; on the second album, adding Nels Cline and Yuka Honda. Araki and Shimmy also helped Watt complete a recording that had been brewing for over twenty years: "Spielgusher," a spoken word album with rock critic/Blue Oyster Cult lyricist Richard Meltzer, released in 2012.

An invitation, in 2009 by M Ward to open for him at NYC 's Summerstage led to the creation of Floored by Four, a quartet with Nels Cline (guitar), Yuka Honda (keyboards) and Dougie Bowne (Lounge Lizards) on drums. They recorded a Watt composed album in a few days following this first gig, four mostly instrumental tracks stylistically inspired by each of these players. This recording also ultimately led to the 2010 marriage of Cline and Honda.

Also in 2009, Watt finally began recording his third "opera," "Hyphenated-Man," a work written for The Missingmen, a trio whom he had toured with since 2005 that included guitarist Tom Watson and local Pedro drummer Raul Morales. This opera was unlike the others, in that its narrative had no specific dramatic arc - no typical libretto. The way it was recorded was also unusual, with Watson and Morales recording the guitar and drums in the spring of 2009 at Tony Maimone's Studio G in Brooklyn and in spring, 2010, Watt adding bass and vocals, with Maimone serving as a co-producer.

It was inspired by two otherwise (apparently) unrelated sources: 16th C. Dutch painter Hieronymus Bosch's mysterious and fantastic visual creations and the transformational experiences of the Tin Man, Cowardly Lion and Scarecrow, the poignant, "incomplete" male characters in the 1939 film version of L. Frank Baum's 1900 classic children's story "The Wizard of Oz." The album consists of thirty little impressionistic, intensely played, genre-busting musical pieces. Like a shattered mirror, each of these thirty sections is part of a whole, serving as a momentary snapshot of a ruminating thought; a series of middle-aged meditations on how men become men. Each tune is titled for one of Bosch's tortured creatures, many from his painting "The Garden of Earthly Delights," a work that has resisted decipherment for five centuries.

Watt observes and interprets the secrets of Bosch's troubled men-beasts in emotionally urgent, extremely "econo" tunes, served up in quick succession. Each has a lurid, evocative title such as "Hell- Building-Man," "Mockery-Robed-Man," "Pinned-to-the-Table-Man," and "Stuffed-in-the-Drum-Man." On "Wheel-Bound-Man," the album's closing track, Watt envisions a man who has come to terms with the unconscious trade-offs made in a life pursuing one's own imagination and as he so often does himself, acknowledges the limitations imposed by "the wheel," yet optimistically looks ahead.

Much to the delight of old and new fans alike, the album evoked the nimble sound and fury of the Minutemen, more than anything Watt had recorded since that band's untimely demise more than twenty-five years earlier.

"Hyphenated-Man" was released in Japan on Parabolica Records in late 2010 and then as the inaugural release of Watt's own Clenchedwrench label in 2011.

As of early 2012, Watt's artistic endeavors continue to diversify and multiply, with many different recording projects anticipated to take form this year, including "Mouthful," recorded recently in Memphis, Tennessee, and a debut by "Emma Goldman Bust-Out Brigade" with jazz stand-up bass player Devon Hoff and Matt Chamberlain on drums. And Watt's expected to tour with the Stooges, the Missingmen and Il Sogno del Marinaio. He's also scheduled to play the All Tomorrow's Parties Festival in Minehead, England, in a rare duo appearance with George Hurley doing Minutemen songs.

As always, Watt persists in exceeding, defying and confounding musical (and other) expectations: the truly romantic embodiment of an authentic punk rocker.





---





Mike Watt Bio - September, 2010 - written by Uncle Ray


WHAT HE DID AFTER HE GOT OUT OF THE WELL


"Came crawlin' out of a well wearin' ladies shoes. Didn't know what milk was. Repeated everything anybody said..."

-The Firesign Theatre


OK, that isn't an entirely gospel portrayal of watt's formal arrival-- but y'know, if you can invent a speculative life for the president, it should be a snap to whop up a real one for a San Pedro bass player. Maybe not all gospel-- maybe not all punk, either.

Campaigns Old & New & Shorthand Boilerplate:

The Minutemen from '80 to '85. fIREHOSE from '86 to '94. Solo albums: Ball-Hog or Tugboat? in '95, Contemplating The Engine Room in '97, The Secondman's Middle Stand in '04. Zero-to-watt in a couple sentences-- yikes. People watt has played with over the years: the Greater Inland Empire (and points on the globe 360) White Pages. There is a comprehensive and necessarily whopping discography here, but c'mon back-- and here's a useful mantra: "He played with___________!"

http://idiot-dog.com/music/minutemen/

Not familiar with watt? Put on this blindfold, get yourself a handful of the elephant & let everybody know what you see-- input from you is not only appreciated but expected & encouraged. Jump in: sound off like you got a pair. Put on coveralls-- it could get, y'know, funky.

Since 2003, watt has been working the bass cherry in the punk rock banana split, the bass slot in the reconstituted Stooges. His third and most recent opera, Hyphenated-Man, is out October 2010, and launches with a 22 gig tour of Japan in 22 days, with Tom Watson on guitar and Raul Morales on drums. A 47 minute, 30 track rip (Minutemen & fIREHOSE people: don't stay home), a rumination on middle age, on not succumbing to the bog'-osity of vanity or the horror of thinking there's nothing left to learn-- channeled & referenced through the works of Hieronymus Bosch, the rants of Buddy Rich, and the travails of a certain Dorothy Gale of Kansas.


"...being an outsider and then takin' up a machine against these people-- teachin' a machine to breathe-- and to make an identity for yourself..."



- watt



GETS OUT OF WELL, LOSES SHOES


Dick Watt: "If the Navy wanted me to have a family, they would have issued me one."

watt: "My ma is from Dines, Wyoming. Her grandfather was a miner. It was a coal town and it closed down. She moved to Peoria, met my dad at a Hungarian refugee dance in Chicago. I was conceived in Chicago and born in Portsmouth, Virginia." In 1956. Dick Watt was a sailor. He made chief in seven years-- the usual military moves ensued: The family (watt's mom, Jean, and younger sisters Melinda and Marilyn) moved to Blackfoot, Idaho (the first nuke-lit city), Schenectady, NY, Virginia twice, and finally San Pedro. "It was closer to 'nam than the east coast." Dick Watt wound up on the Enterprise. "I was nine or ten when we moved to Pedro. The Naval station was in Alameda. Mom was tired of moving; it was making her crazy-- the Navy doctor told her to take classes. She got an art degree at Long Beach State, but never used it. Dad ultimately retired to Fresno where there's no ocean!"

"The positive thing about Navy housing--you lived with all kinds of people--I thought it was weird the way civillians lived-- we were segregated by rate-- they were all chiefs-- E-7, E-8, E-9; in the Army you call 'em a sergeant. There was no discrimination between the E-7,- 8, -9 population. I'd ask 'Whataya do?' 'Well, I kick the ass.' He was pretty calm, not a shouter. Him comin' back from tour, he'd take me drivin' the next couple days, long-ass drives, just talkin' about where he'd been-- it made me curious about the world-- he brought back not things but stories; gave me a gun when I was 16-- he only saw me play once, but the postcards tripped him out-- my pop came down to Pedro & gets a 6-pack; we're gonna drink beer-- we drink it sittin' on the deck there and he asks me 'so whats this punk rock shit about?' This is '77-'78. I was like 'me & d. boon are gonna write our own songs and play gigs and record and tour' and he was like 'yeahyeahyeah but what's it really all about?' I was like 'whataya mean' and he says 'well, is it socialist?' And I laughed and he got really mad, he grabbed the leg of a chair and then he let it go-- I didn't mean to laugh at him-- he didn't have music people in his family, he didn't know arena rock, club rock-- when I went up to his pad he had Bringing It All Back Home, he had a Dylan record-- maybe two. I think my little sister played him some Minutemen once-- I don't know, we didn't talk about it. He did see me in fIREHOSE, we played the Spaghetti Factory in Fresno; we played the gig and then we conked at his pad-- and he was all smiles in a way; he saw it like I was runnin' a little crew--that's what chiefs do, they have groups of guys, the officers don't really deal with the men, they deal with each other."

"In seventh grade I wanted to play saxophone like thirty other guys and there wasn't enough so they gave me a clarinet which was kind if interesting but I guess after ten weeks the teacher said 'whoa, you try hard watt, but...'"

"I never took music classes again but I got into music still; the main reason was to be with d. boon-- his ma played guitar so she had him play guitar-- and then 'you guys are gonna have a band, you're gonna be the bass player.' I didn't even know about bands-- the music thing in the school, playin' clarinet, obviously I wasn't thinkin' rock n roll, it was just somethin' to do--my ma-- there was a time in Virginia when she had me play some guitar... (I took) lessions because they said I was uncoordinated and she gave me clay too, and shit, because she was worried about me bein' a fumble-bum-- like Jingle Bells and shit on the guitar-- I only did it a little while-- I had gotten into music-- I knew more rock n roll than d. boon did-- he only knew Creedence-- I had gotten 8-tracks of T-Rex, Black Sabbath, Cream, The Who-- first gig I go to is T-Rex-- with d.'s father, Joe Boon takes us-- d. boon's pop was sittin' with us, he didn't just take us; he was from Nebraska via Bakersfield-- he wasn't judgmental or anything."

"The whole idea of the band was to keep us in the house. Econo childcare. I'm very grateful."

"We never heard jazz until punk. We had no idea. People like Pettibon were playin' me Coltrane but I thought they were punk too. I thought they were older, I didn't know Coltrane was dead. I had no idea."


I tell watt I came to the Minutemen late, summer of '84-- and that I immediately identified them, for better or worse, as a jazz band-- punks playing jazz. I figured they were wearing out copies of Turn It Over by the Tony Williams Lifetime and, I dunno, READING BOOKS. (Turns out one of their major Rosetta Stones was Wire). So you had these EPs and LPs with numerous short rips or maybe one long blast-- weird time signatures, crypto-belligerent word-outbursts--sounded from his playing like the bass player maybe had human-size bullfrog legs and was territorial-pissing which lily pads are his mid-spring-- the guitarist had this trebly, hysterical brightness-- somehow there was a schoolyard bully aspect to his playing-- his "solos" were short outbursts--but he didn't want your stinkin' lunch money, he wanted to enlighten your clueless ass in brief, illuminating installments-- now get the fuck outta here and think about it. And the drummer-- the Minutemen with the wrong drummer would have been like watching a three-legged man stumble-fuck every task at hand-- George Hurley pounded with a furious poetry and an impeccable sense of time that was startling-- it was like "I'm with you, motherfuckers, GO!" A punk drummer who SWUNG. Punk-rockers with actual chops. Just exactly who were these freaks? It was quite an alarming throwdown, ending tragically with d. boon's death in an accident on the highway in December '85. For people coming to watt or the Minutemen recently, the DVD We Jam Econo is an excellent starting point-- likewise the Michael Fournier book Double Nickels on the Dime, from the 33 1/3 series of books about records. A good crash introduction would be the CD Introducing the Minutemen, but there's a reason everybody including the guys who made it are partial to Double Nickels. Sadly, Econo is probably the best way to see the Minutemen. I avoided the movie. I wouldn't see it when it played in town. Then I bought it and wouldn't watch it. Then I watched it. Once. No matter how many times you watch Titanic or a History Channel documentary about the Titanic you cannot wish that motherfucker safely into port. I didn't know anybody on the Titanic and I never met d. boon but sometimes when I hear the Minutemen I feel like one lost-ass son of a bitch down at the end of a pier squinting out at...something. Maybe the indifferent horizon.


"God is not a nice man. He is not your uncle."

-Janwillem van de Wetering

"Everyone says time heals, but he did not see it that way. His grief was the same to him as knowing the multiplication tables--a knowledge he could never deny, whose factuality could never abate."

-Nancy Lemann

"You learn to love the place somebody leaves behind for you."

-Barbara Kingsolver



ENTER THE EDWARD

Ed Crawford, ed fromohio, deals with the loss of d. boon in an astonishing way. In 1986 he moves from Ohio to California, moves in with watt, and forms fIREHOSE with watt and Hurley. It is one of the stages of grief that as far as I know has been overlooked but could bear some study. And if the same people want to rename brass balls they could do worse than call them Eds. Ed had a beefy, scorching sound that grabbed you in the chest, truly scary chops, and he could SING. Most Minutemen fans were rightfully enthusiastic about the phoenix that rose from those bitter ashes. From '86 to '93 they did truly rage full-on.


HYPHENATED-MAN

or: Buddy Rich Refuses Medal, Punches Man Behind Curtain


watt: "This was the reason I put together the Missingmen, to do this third opera--four years and it finally got realized--but the reason I brought Tom Watson and Raul Morales together as the Missingmen was to do this third opera-- it was around the time when Keith & Tim did the We Jam Econo documentary. I had to listen to the Minutemen, talk about the Minutemen. I hadn't done it that much. I kinda dealt with it and d. boon in the first opera, in Contemplating the Engine Room. It was sad to hear that music-- I had to have it together for these guys-- they were so earnest I thought they were the right guys to do it, and so that's in '04, '05-- so this gives me the idea for it though when I do my second one in 2004 (The Secondman's Middle Stand, in which watt recounts his brush with death), I already got the ideas for a third one and it's to use little songs again. Also the second one had so many long songs because to do sickness I had to use loooong 'cause time slows way down when you're sick-- listenin' to the Minutemen was like whoa, no filler here. Just get to The Thing. I liked it a lot, (and) this idea-- this thing from when I was a boy, the same way maybe I was intrigued by Dante; the Commedia was what I used to parallel the second opera-- I was into this painter, Hieronymus Bosch-- and it seemed like he made one big work out of a bunch of little ones. And so I thought this was kind of a parallel to the Minutemen, makin' one gig out of all these little tunes. So that was the basic thing. The second opera was about the sickness but it really seemed to be getting into ruminatin' on middle age even though I was only 42 years old-- it was startin' to hint at it a little bit so I thought the third one should address it-- middle age I never thought about as a kid; there was old and young but I never thought of middle, ever. We lived so rough and stuff, I didn't... I just wanted to write about this weird experience, whereas the other operas had beginning, middle and ends-- the first one sad ending, second one happy-- the third one almost all middle. There's no narrative like the librettos or whatever-- it's like if you took a mirror and broke it into thirty pieces and put it in my head; I talk about that in the first tune-- it was supposed to be my state of mind right now. Bosch was part of it, the little creatures-- I was trippin' on Dorothy in the Wizard of Oz; one way you could take it is kind of a coming of age thing for her; she's trippin' on men, what they do to be men. I notice that the farm hands-- even at the end-- 'You were there and you were there...' there's all these things that men can be-- men behind the curtain-- all these kinds of things-- it seems that women have actually one choice, they gotta be a witch, either a good one or a bad one-- but she's trippin' on the guys and the man behind the curtain. (He) even talks about this: "You got courage, here's a medal; you're smart, here's a diploma.' And I thought that was a big part of middle age, when you start to evaluate the sitch. I just used that as perspective to help me write this kind of thing."

"The big thing about this opera is I'm playin' with Tom and Raul, I'm playin' with my guys. This is a fun thing, it's like I won't get old if I keep playin' music. I borrow from Buddy Rich in the Blowin- It-Out-Both-Ends-Man when he's talkin' about 'there's no sound in flutes!' and in the Bosch painting one guy's bent over and he's got a fuckin' flute in his yang and there's a guy next to him blowin' on this bassoon. It's the Garden of Earthly Delights, in the right triptych and all the instruments of torture in Hell are music instruments! That's where Bosch is at, y'know-- shit, my thing ain't heavy on the judgment thing but Buddy's in a rage, one of the things I learned from the Commedia..."

"Go back to the Dorothy thing-- she's trippin' on what men do to be men. Right? Some dudes, that's how-- well look, I grew up with my pop a chief-- the whole thing was about yellin' -- I remember one time my pop said 'y' know I've never asked anybody to do anything...' chiefs don't ask they tell."

"(There's a) fear of getting too full of yourself. When you get vain, thinking you have nothing more to learn, nobody has anything left to teach ya-- that's a much scarier place to be-- So much it's just--I'm just trying to react against-- especially the rocket that I'm in, there's so much entitlement, primpin' & prancin'-- it's a reaction to that, kinda like punk was a reaction to arena rock."

"I'm reacting against the entitlement. You're writin' songs; the way I look at it they're like little babies-- Baby-Cradlin-Tree-Man, that's a baby. Aka-chan is Japanese for baby. These songs, they get their own lives, you gotta let 'em go, they're their own works, they don't totally belong to you in a way. I can't get too precious on' em, the way they come together-- the licks, the spiel, the performances, its beyond the puppet strings, which is good in a way-- when you hear my stuff you hear other people playin' too that I heard. I was talkin' about myself in some ways but in other ways makin' a piece, makin' it work."


(I ask about a Tannis root reference in Baby-Cradlin-Tree-Man)


watt: "Tannis root-- that's what (the guy in the painting) looks like-- it's what witches use, midwives, it's not supposed to be occult & stuff, it's more like primary care-- it's in the painting, there's a tree man holdin' a fuckin' baby-- maybe it's a woman, I can't tell but the tail looks like a Tannis root and there's been some people's suspicion that it was, meaning evil-- the Bosch thing, it's Christian you know, but you can't tell, it's like Kierkegaard when he says 'I'm not a philosopher'-- and he's using all these nom de plumes and you don't know if it's ironic-- I'm interested in that. I remember once I saw the Blue Oyster Cult album Tyranny & Mutation and it had a sticker on it, it said 'black humor' and I said 'what is black humor, ma?' I was a teenager. And she goes 'read Joseph Heller. Funny stuff that's not funny.' Bosch is paintin' these things for fuckin' rich people-- there are kings & shit buyin' this stuff. They're hangin' in churches. Churches were where you showed off in those days. You can only guess 'cause the guy never talked about it. It made it loose enough where I could appropriate some of the shit-- I don't know the analogies and metaphors so I made up my own but they get kind of lost and they become unto themselves..."


(people are gonna take away whatever, says I)


watt: "You know about ergot? It's this rot that rye gets and that's the thing that Dr. Hofman synthesized to make L(SD). What happened was (Bosch) hit a town and they'd get the St. Vitus Dance, they'd all be goin' crazy and they think maybe this guy mighta been trippin' and shit-- there's so many ideas about him and we don't have any primary source-- it goes back to my childhood, there was just somethin'-- I liked dinosaurs, I liked space-- there's certain things that attracted me, I remember in high school you gotta do a book report and I wanted to do it on The Divine Comedy and the teacher said 'that's not a book for someone your age.' There's just things you're attracted to, I don't know why..."

"Bosch didn't write any letters-- there are twenty-five pictures, he signed maybe a third of 'em-- he married a rich woman, he was a kept man, his father was a painter so he learned the family thing but one theory about these creatures is that they were visualizations of proverbs and aphorisms, like one where there's this guy blowin' a horn that's his nose-- but I don't know, five hundred year-old Dutch /Flemish-- his real name was Jeroen van Aken, he was actually from Germany; Bosch is forest. He took that name but I just made up my own spiels for those creatures, I could show you every creature in this piece that's in his paintings. A lot of them are from Garden of Earthly Delights, Temptation of St. Anthony, and The Last Judgment, those three. I made two changes. I was gonna end with Man-Shitting-Man -- I thought this is too fuckin' bleak for a watt thing; Mr. Bosch helped me out with some imagery-- they read left to right, the right is always the Hell & damnation shit; I couldn't end it like this although I know humans are just horrible to each other; I just don't wanna go out like that so I took Wheel-Bound-Man and moved it to the end and then I moved Own-Horn-Blowing-Man after Finger-Pointing-Man 'cause I was thinkin' of vanity-- I never use the word "I" until the last song. I use it once in quotes in Frying-Pan-Man but it wasn't supposed to be totally about me but I wanted to take responsibility and that's why I used my name; you'll know who to blame for the fuckin' disaster! (laughs). The third thing I did was in the middle there was gonna be an instrumental, Pinned-to-the-Table-Man and I thought, no, I want it to be spiel too and there's some things I didn't address-- this is after mixin' and everything-- Tony Maimone mixed it-- and here in Pedro I recorded a spiel and just pinned it to the front of Pinned-to-the-Table-Man: 'loss and liberation...' and I used my own name. I just thought I had to do that once in the piece-- so those were three last-minute adjustments."

"Another weird way it was constructed-- it's not weird for me to use literary and non-musical influences 'cause I do that a lot, but what was strange was that I wrote the whole fuckin' thing on one of d. boon's Telecasters, I didn't write it on the bass like I usually do-- I did it a couple times in the Minutemen, like History Lesson-Part II or a few other songs-- you know I can't play guitar worth shit, I can't even hold the pick -- I wrote the whole thing on one of his guitars on purpose-- I was really afraid, and this goes into the way it was built -- of not giving respect to George Hurley and d. boon-- I didn't wanna make a cheap knockoff of theMinutemen. So I taught it first to Tom Watson. I made demos of all those songs with my palsy-assed guitar and he was a man among men to fuckin' -- he only has one little solo in the second song-- the whole album, all that shit is my guitar parts and he never bitched, never moaned, he was beautiful about that-- and so I got a guitar, the one I wrote it on, and I took it to him for him to practice, we both had guitars on, and then I worked out the drum parts. I can't play drums so I also wanted Raul to have kind of a natural feel, I didn't want him to be too forced but I did want him to stretch from where he was and I wanted him to be very much like a Minutemen thing where the drums are way up there with the bass, kind of an eglatarian, d. boon political idea of organizing a band, not have the guitar on top, so that at the same time I could teach Tom the guitar I could also work out the parts, have Raul try different things, different fills, different beats and that's how I worked out the drum parts. Then on tour last year in the middle of the tour we took three days off in Brooklyn and I had Tom and Raul record it together. Without bass. They never heard the bass, they never heard the spiel. Then in June I went out to Brooklyn to put on the bass and spiel. So it was put together kinda weird. This one was really done different for me. I've always looked at records two ways: in the old days d. & I split the world into two categories, gigs and fliers-- everything that wasn't a gig was a flier so records came in that category, along with pictures, interviews. The other thing, we looked at 'em as springboards, for places to take chances, 'cause there's things you can do that you can't really do at the gigs when you're workin' for people in the moment. So that's what I did with this one, that's much different for me. Gonna be difficult 'cause it's all gotta be played as one piece. This is the reason I put the Missingmen together -- my guys deserve it-- they're very excited about it-- they were very surprised when they heard it; when I hear it I can tell-- I thought if you got rid of the only actual Minuteman it wouldn't be TOO Minutemen-y!"

"I wrote some songs in fIREHOSE on the guitar. Not a lot. Flyin' the Flannel's got a few. I wouldn't let Tom play through a Fender 'cause I didn't want it to sound too much like d. I gave him a guitar from J. Mascis, one of those purple Jazzmasters-- Tom's like a link to the old days, he's younger than me but he was playin' in Slovenly and those SST bands. Raul's from the '90s punk scene that came to Pedro that I really wasn't aware of; that's why I wanted to play with him when I started, he was a sub for the Secondmen drummer who couldn't tour. It has grown into a whole scene that's even attracted people to move here. I was unaware of it because I was touring so much. There's somethin' about trios I will always love, its my first way of thinkin' bands."


(Seems like there's more room, I interrupt)


watt: "There's more room in the van for sure! The Missingmen wasn't just a band to do gigs-- this was the mission."

"What's that thing in the lines at the cafeteria? It's ala carte, I pick what I want-- like with bass you always start out with too many notes then you gotta tear it down because of the physics, you get too small, you have too many notes, it's always a search for the right notes-- well, you know I'm using stuff...they come on me as inspiration, you know."

"Maybe there's a little schizophrenia in it, but that might be the counterpoint to what my job is in music which is to be the foundation. It's to be very solid. I have to glue the drums to the guitar, I had to glue 'em together-- and even though I made those men go do that-- 'go do this without the fuckin' bass...' that's kind of the dare, the tradition of the movement I'm in, something I never outgrew, what I love about punk, you do contrasting things like that."

"The way I can keep the movement alive is to use some of the ethics -- you can't keep playin' the costume party."

"It's tough to reinvent yourself all the time-- the guy I started this with is gone-- I think he'd want me to keep goin'. I want to keep goin'. I wasn't tryin' to be provocative with the spiels in this thing-- what I was thinkin of, the idea, the Bosch thing with the Minutemen you know, I was havin' to go back because of We Jam Econo and then the Dorothy thing, and I'm not even thinkin' of Dorothy as a woman, I'm thinkin of her as a non-man, though-- an alien. Like when Perry wrote that song Pets, 'we'd make good pets', right? The aliens come down and look at this race of people-- my work is kinda different because it celebrates a Peter Pan type of lifestyle in a weird way whereas my other friends who had to plug in to other social norms or something-- you could see how it could freak out on them a little more but I think there's something healthy about freakin' out a little-- maybe not freakin' out but inquiry-- just thinkin' about it-- the art stuff is to transcend. I can imagine the first cave-painting artist, he asks his buddy 'hey, whadda you see there?' And what'd the guy say, 'chromium oxide?' 'No man, it's a buffalo, don't you see it?' 'No, I...' I mean, what is it really?"

"I told you why I made it. To see it realized, the knowin' is in the doin' because yeah there's things-- I don't know if it's a complete statement but it is kind of a diary entry to where I am now with my music as far as playin' the bass and maybe with the spiels and my interaction with the other guys -- my idea of a good ensemble is making an interesting conversation between the instruments, so that's-- y'know, I'm tryin' to do that."

"My friend Bob wrote: 'Maybe the angle is that these Bosch-ian agitators are burned under the hood of a car and just might represent many of the conflicting internal/external factions that the middle-aged man of today had best not ignore if he don't wanna break down on highway 95 deep at night with no external resources.' He's convinced that it's me reconnecting with Saccharine Trust and the old SST..."

"I didn't wanna make a nostalgia fest-- I DID use the little format-- that is from my past. I have an antimilitaristic tune in Thistleheaded-Man and Bootwearing-Fish-Man, they're not all self-referenced, I confused the shit up on purpose. I fouled the waters on purpose because it just felt that that's what these little creatures needed..."



MORE QUOTES:


WATT ON WATT

"I'm the crazy guy with the yellow coat on who rides his bike in the morning. Who leaves Pedro and comes back."

WATT ON IGGY

"If a garbage disposal opened up onstage I think I would follow him 'cause I get so caught up in his shit, his work ethic is so intense. He works the shit hard and I love it-- reminds me of d. boon."

IGGY ON WATT

Q: How does Mike Watt fit in with the reconstituted Stooges?

A: It's funny, the people in the group, on stage, with the exception of Mike, we all spent time in or are from Ann Arbor (Mich.). We have a lot of points in common. Mike has been a real killer for the group, always there for us. Usually with people who want to come in and do sideman work, it lasts a year-and-a-half, then they'll tell you, "I got a call from Rod Stewart and he's going to pay me $7000 a week. Bye!" He's been really steady and brings a melodic fluency to the group that it didn't have with some of its previous bassists. Unfortunately he's not able to use that because our melodies are so simple, especially on "Funhouse" and "The Stooges" stuff. But on James' stuff (for "Raw Power"), Mike's able to do more. It's more advanced stuff in certain senses. Mike was the point man for a group of guitar-oriented artists in the '90s like Thurston Moore and J. Mascis who brought Ron and Scott back into light as really important influences for future generations.

http://leisureblogs.chicagotribune.com/turn_it_up/2010/08/iggy-pop-interview.html



ARE YOU STILL HERE?

Go to a gig. We see you. Taunt taunt taunt. OCD? Agoraphobia? So what? You made it this far-- go to a gig. You. You should be there. When they come. And they will. Go. Go back to the home page. There's about a dozen year's worth of diaries. They're a blast. Bring snacks. Then go to a gig. You will feel profound guilt and shame if you don't. And you will miss IT. Nobody wants to miss IT.


FOUND IN UNCLE RAY'S ACTUAL MAILBOX


Ray,

this is Mule I'm at the bait store. Read those diaries you said. I`ll go to the show but I don't have to meet this guy do I? Liked the food parts those guys eat like kings you know. All that whine you hear from those FM radio whiners they write songs about THE ROAD I wish they read that or had somebody read it to 'em. You know those classic rock princesses go slumming at a fuckin IHOP and somebody makes fun of their hair or their dog or their shoes or their titty ring well shit you know next thing they can't go on without therapy. Then somebody drops a bail of money on their shar-pei while they were blowin 'em and payin 'em at the same time and the princess writes another song about it cause they suffer so much for their art and they're takin us with 'em. Speakin of which don't these guys get none? I mean, car pocket. They eat, they drive, they play the gig, they crash on some whack-job's floor for about five hours (they been on yours right) I guess somebody could tear one off upside the van during loadout or something. I'm just sayin. Maybe the unexpected laundrymat has replaced bangin as far as happy endings go. Well nobody has to kiss and tell maybe it is for the best considering bottles of piss might not be the best aphrodisiac unless maybe you are hunting something in the lupine family. Somebody just came in and accused me of sellin "used minnows" was what he said. I told him wait a couple years and he'll be takin snakehead with landfill for all I care. My one friend in Maryland took a 19-pounder on a broken G.I. Joe doll. He says when we get the Asian carp it'll be like tryin to land a pissed-off buffalo with six-pound test. He says they can jump in your boat and raise so much hell that if you make it to shore you'll never leave the house again. I have seen the writing on the wall and it is my ass so I might as well go to this guy's gig he and I could both do worse. I don't know if that bass (you know pronounce that base) has got him or he has got it. I suspect the first one. Got a fishin fellow come in here's the same way with that damn Zebco. Got to try every damn thing you can do with it with every damn body; fish with a damn flyin monkey off the stern of a freighter usin giant squid for bait. I liked your story about the guy who stole the Sears Craftsman sockets by dropping them in a big milkshake while he was browsing. I ain't got no tools here except the occasional customer. Har. Don't tell anybody else ok? I know a place keeps their lures out in the open.

Mule Alexander Boy-Hawkins

p.s. I only got one pocket on my shirt so fuck me you know



LAYIN' SOME PIPELINE [as of september, 2010]

I think I remember reading somewhere in the tour diaries once upon a time, about a time when watt was invited by some people recording in a pad near the gig to come and add some bass so he did. In no time at all, word got around all over "the circuit" that this cat put out-- grease pencils, winks, suggestive handshakes, masonic-like rituals-- well, needless to say a full dance card ensued. I can't keep up with just LISTING his current projects, so here's watt's list in his own words and font, but remember, it's a few days old and probably woefully in need of updating:


I got much in the pipeline now - a brief summary:

all these have me on bass!

debut funanori album being worked on now, 'pert-near half done. a split ep "a tiny twofer" came out in 2007, this is what got me started composing/recording/collaboarting again after ten years of like 95% doing gigs. kaori tsuchida: sanshin/guitar/keyboards/singing/flutes/percussion

"hyphenated-man" mike watt + the missingmen (out in japan on parabolica october sixth) tom watson: guitar, raul morales: drums

"my shubun no hi" mike watt + the black gang (trying to mix/finish this fall) the concept: autumn. nels cline: guitar, bob lee: drums

"dos y dos" dos (fourth album, just mixed by yuka honda) kira: bass

"spielgusher" (richard meltzer spoken word w/music behind him, recorded may 2008 in tokyo, being mixed now) mister shimmy: guitar, ms yuko: drums

"brother's sister's daughter" debut album (recorded december 2008 in tokyo, being mixed now) mister shimmy: guitar, ms yuko: drums, nels cline: guitar

"brother's sister's daughter" second album (recorded january 2010 in tokyo, being mixed now) mister shimmy: guitar, ms yuko: drums, nels cline: guitar, yuka honda: keyboards

"cuz" debut album w/sam dook in brighton, england (almost all mixed). recorded stuff for second cuz album in may 2010

"los punkinhedz" debut album (the drums and bass have all been recorded in spring of 2009, still needs more keyboards/spiel) money mark: keyboards, raymond pettibon: singing, john wicks: drums

"no red light flashing" debut album (w/jim o'rourke - both of us on everything, recorded september 2009 in tokyo. needs mixing and more overdubs)

"il sogno del marinaio" debut album will be mastered this month w/dos album (recorded december 2009 in italy) stefano pilia: guitar, andrea belfi: drums

album w/estel (dublin band) w/steve mackay on sax also (recorded june 2008) being mixed right now by the estel folks http://estelrocks.com - looking for april 2010 release.

steve mackay (stooges saxman) album recorded march 2009, I play on all the songs but only two are my compositions.

out already:

estel ep w/watt + steve mackay (will also be included on estel + mackay + watt album mentioned above)

third unknown instructors album "funland"

the island "channels" album. I was flowed ten songs of guitar/drums/singing from a cat named steve in canada who asked me to put bass on it. I don't really know him but fuck it, why not?! like a lot of stuff I'm doing, this is via pro tools at my pad. this came out back in april.

out in september:

"floored by four" debut album (recorded back in july, being mixed now for release on sean lennon's label) nels cline: guitar, dougie bowne: drums, yuka honda: keyboards

"We're gonna start practicing next week-- then Japan, 22 gigs in 22 days. Maybe in between I finish this album (no red light flashing) I started with Jim O' Rourke."

(Fuck yeah, see if anybody needs their house painted. Maybe Tom & Raul can register with a temp agency and grab a little something extra with all their down time).

"I'm gonna do an album next year with Pete Mazich and Jerry Trebotic about work-- d. boon would really love that I'm gonna do an album with two Pedro guys, two longshoremen, about work."

"Not an opera but this album I did with Nels Cline and Bob Lee about autumn--(my shubun no hi) I asked Nels to play his most psychedelic guitar ever."

(Jesus X. Christ on stilts in the Bahamas with a shotgun, put that motherfucker out).

"I have to mix it. It's very hard to play with Nels but if you have an opportunity and you have a little window, go for it. In fact I made four albums with him in the last two years. One of 'em's comin' out at the end of the month with Yuka Honda & Dougie Bowne. Floored by Four. So that's why I grabbed it then but the Missingmen, I had to realize it-- it's four years now-- I CAN play a lot easier with them than I can play with Nels. Nels can't commit to tours or anything but that doesn't mean I'm not gonna record with him every fuckin' chance I get. He's one of these guys that you can bring the album-- I wrote all the songs on the bass, just brought the songs to the studio, no practice, scared the shit outta Bob Lee; I said don't worry you know, you'll get it-- 'course Nels, he eats it up. A lotta people, bass doesn't have enough directions-- to people like Nels, he sees it as a total springboard-- it leaves a lot to the imagination which he's way into comin' from improvisation."

"I have a record with Richard Meltzer with Japanese musicians. He gave me fifty spoken word spiels, ten of them the lyrics to Minutemen stuff we were gonna do with him-- we didn't get to record 'em of course but they're gonna be realized here-- I entertained other musicians about 'hey, do you wanna help put music behind me' and it was a little rough on them but Mr. Shimmy and Miss Yuko, you know their English ain't so good, they don't give a fuck-- they weren't offended, it was just sounds-- we did sixty-three pieces, we did the music in three days so its got like fifty spiels and thirteen instrumentals-- it's almost ready. For me, getting to make an album with Richard Meltzer, he was just a big hero to me & d. boon big time."

"Later this month I'm gonna master the fourth dos album (dos y dos). And this album I did with these two younger Italian musicians last December (el sogno del marinaio), which is trippy."

"A lot of my collaborations have been over the 'puter; I made an album with this young guy in Canada, I never even met him (the island "channels" album). He sent me the ten songs and I put the bass on it."

---





Mike Watt Bio - October, 2005 - written by Karen Schoemer


I first met Mike Watt was in 1995, when he was on tour for his album Ball-Hog or Tugboat?. I wasn't familiar with much of his other work, but I wanted to interview him because I was interested in roots music, and Watt's former band the Minutemen was roots music--the roots of American punk rock. Ball-Hog or Tugboat? was billed as his first solo album, but it functioned as a tribute album as well, featuring guest appearances by members of Nirvana, Pearl Jam, Sonic Youth, Dinosaur Jr., Bikini Kill, the Germs, the Meat Puppets, and other punk and punk-influenced bands. Joining Watt on the tour were drummer Dave Grohl, Pearl Jam singer Eddie Vedder, and Lemonheads frontman Evan Dando. I wanted to know why guys like Grohl and Vedder--they were genuine rock stars; they sold millions of records, they were all over MTV--wanted to hang around someone who was basically unknown outside of college radio. So I met Watt one night backstage. He was wearing a blue plaid flannel shirt, his hair was turning gray, and he had an unusual way of avoiding eye contact: he'd look at the table or the floor or sideways at the wall, but the moment I looked away his eyes were on me, staring with a gaze that peeled my skin. He seemed shy and self-conscious one moment, a roaring bear the next. I didn't have to ask many questions, because despite his apparent discomfort, Watt talked almost without pause, using vocabulary words like spiel and thudstuff that were strange to me, making references to people or places from his punk-rock past that went over my head, and stringing together thoughts and reflections in an improvisatory way that I couldn't always follow.

Despite these gaps in communication, there was something about Watt that I did understand, something weirdly beyond words or explanations. See, I'm not punk rock. I like melodies, I'm very amenable to violins and folky sounds, I've never dyed my hair or punched anybody, I've never crowd-surfed or been spat upon, I'm not an outward antagonist, and I think there's a valid case to be made, as far as the history of rock is concerned, for the conformity that pop music represents. When I was thirteen in 1979 a kid named Ed Biehl sat next to me on the bus, ranting about how great punk rock was and I shouldn't believe what they said on the news and I should really check it out because he thought I would like it, and I looked at him and said flatly, "I would never listen to that music." Well, I grew out of that narrow-mindedness, thankfully, but even after I got into college and worked at the radio station and heard Sonic Youth and the Birthday Party for the first time, punk rock remained kind of scary to me, and when I got into my twenties and wasn't scared of it anymore, I still felt a little uncomfortable around really extreme expressions of it, and left hardcore and most of the Homestead Records catalog alone. But when I met Watt, suddenly punk rock revealed itself to me in a new way. I realized that I didn't have to practice it, so to speak, in my daily life in order to love it and appreciate why it mattered. It was as though I met punk rock itself that day, not just a person who played it. I guess that's a weird thing to say. But from that day on, Watt has been my touchstone, my living embodiment of what punk rock means. And I think I'm not the only one. Maybe next-generation musicians like Grohl and Dando and Vedder feel that way, too, and that's why they like being around him. As long as Watt is here, punk rock stays true to itself. He nurtures it, helps it stay healthy, and in doing so points the rest of us in the right direction. He's the lighthouse keeper.

What I've learned through Watt is that some of the conventional wisdom that has grown up around punk rock over the past twenty-five or thirty years--that's it's loud, angry, violent, confrontational, macho, primitive, harsh, unpleasing--doesn't always pan out; those surface truisms contain deeper complexities. Punk rock at its best is thoughtful, inquisitive, hopeful, redemptive, illuminating, eloquent, passionate. In the fall of 2004 I went to see Watt on his "El Mar Cura Todo" tour in support of his most recent album, The Secondman's Middle Stand. This is his "sickness" opera, written about a perineal infection that had almost killed him. The music was a vehement marriage of avant-garde jazz and prog rock, with stop-and-start drum rhythms and complex bass patterns battering a shrill wheez of Hammond organ. The sound system that night wasn't very good, so I couldn't hear many lyrics, but I caught phrases about vomiting, piss bags, and tubing. Watt was singing and playing his bass so intensely that the veins on his neck jutted out. It was difficult music, but I hung in there for it, and I got the feeling that I always get with Watt: that he lays himself on the line, that he pushes himself as far as he can go, that he gives up every ounce of his brainpower, bodypower, heart, and soul. And while the sickness opera is probably never going to be my favorite work of his, it brought something to light that night that I'd never noticed before. Like a real artist, Watt puts what he's got out there; he doesn't edit it or censor himself in order to please the audience. He makes sense of his world and his life through his music, and doesn't flinch from the tougher parts. In that way he reminds me of Neil Young and Bob Dylan, two other rock guys whom, at their best or even not-best, you always want to keep an eye on. And what that made me realize was this: that the best punk rock transcends punk rock, and enters into a realm more glorious and revolutionary, which is art.

I followed Watt's path to punk rock; he laid his own. He was born on December 20, 1957 in Portsmouth, Virginia, the son of a navy sailor. Dick Watt had enlisted when he was seventeen, and attended boot camp in Chicago. Watt's mom, Melinda, had grown up in a coal-mining town in Wyoming; when the coal ran out, the town closed, and her family resettled in Peoria, Illinois. "For midwest people, I think Chicago is the big town," Watt says. "So she went up there, and that's where she met my pop. That's where I was conceived. They married young. I was born when he was nineteen."

Military life had a huge impact on Watt. For one thing, the family--soon to add two daughters--moved around to such far-flung places as Schenectady, New York, and Blackfoot, Idaho. "My pop was an engine-room guy, but for nuclear engine rooms," he says. "This was a new program: nuclear energy to run boats. Not weapons--boats. The advantage of having a nuke-run boat is that you don't have to fuel 'em for years. They can run at forty, fifty knots for, like, eight years. He was on a nuclear cruiser and he was on the Enterprise, which was an aircraft carrier. He also worked at plants. A lot of this nuke stuff they hid deep in the country, in case something went wrong. So I lived in some weird places." Watt's dad rose to the rank of chief (the army equivalent of a sergeant), and they lived mostly in navy housing. "Navy housing is like tract homes," he explains. "All the houses look the same. Everybody's pop was the same rank. There's a lot of negative to the military--like, most of it. But one good thing was I lived with all kinds of people, as far as ethnic background or whatever. Because the navy was integrated. That was kind of neat. And with everybody's pop being chiefs, you could see that no one was above or below anyone else. You know how neighborhoods get all caught up in different things? Well, in the military you're not like that. You're all together. So I will say that was one positive thing that came out of it."

By 1967, with the Vietnam war on, Watt's dad needed to be near the Pacific. The family moved to San Pedro, California. "With military life, you get the orders and you've just got to move," Watt says. "That was very hard on my mother. She'd have to start all over, take the kids out of school. By the time we got to Pedro I was almost ten, and my mother said, 'No more. I want to stay still.' Of course my pop got other orders, but my mom said, 'No. I ain't gonna move anymore.' So that's how I ended up staying in Pedro. They divorced when I was twelve. But before that I didn't see him a lot, either. So it wasn't like a big change at twelve, because my sisters and I had already been used to it."

The family moved from navy housing in a project called Park Western, and it was there that Watt became friends with future Minutemen bandmate Dennes Boon. In the 2004 documentary We Jam Econo: The Story of the Minutemen, Watt explains how they met: "He was playing army, and he fell out of a tree on me." The two bonded listening to music in their respective pads, and pretty soon they were playing it, too. "I'm not really a musician," Watt says. "I tried music in the seventh grade and they kicked me out after ten weeks. The teacher said I tried hard but I just didn't have it. I never tried that academic thing again. I just did it to be with D. Boon."

D.'s mom suggested that Watt switch from guitar to bass. "I didn't know what the bass was," Watt says. "In arenas you couldn't really hear it. But we saw on album covers that every band had a bass player, except the Doors and the Seeds. So we knew it was a big part of the band. In the pictures it looked like a guitar that had four strings. I didn't know they were bigger. I didn't know it was lower." He was equally naive about songwriting. "We never thought about lyrics much as kids," he says. "Most lyrics sounded like lead guitar or something. We weren't thinking about the meaning of the words. My whole teen years, I wrote one song. It was called 'Mr. Bass King of Outer Space.' Stupid song. It was about playing the bass so low[long? tk] that it was blowing everybody off the stage."

Punk, arriving first in the form of records by the Ramones and Television, and soon after through gigs by L.A. bands the Dils and the Germs, completely changed Watt and Boon's outlook. Lyrics suddenly seemed more crucial: "People were trying to tell you something about themselves," Watt says. And the fancy musicianship of '70s arena rock bands went out the window, too. "Before punk, bass was kind of where you put your retarded friend," Watt theorizes. "Left field. It was a real inferiority complex dumped on me because of the bass guitar. But with punk, you had everyone lame, so all of a sudden the bass player was elevated and everybody was brought down. It was a lot more equal, and the bass drove the songs more. They were all learning, they were all beginning." With high school friend George Hurley on drums, Watt and Boon formed the Reactionaries at the end of 1978, then refitted themselves as the Minutemen a year later. "The 'minute' meant more like minute," Watt explains. "Like we were small compared to a big arena rock band. And the other reason for the name--I had a bunch of names on a paper, and D. Boon picked that one. He liked it because there was some right-wing group who used the name. We thought, we'll call ourselves the same thing--there goes their power! It'll dilute it and confuse things."

Even the Minutemen's songs were little. "We got the idea from this band from England called Wire. They had this album Pink Flag. The basic idea was to make the gig like it was one big song with all these little parts. They weren't supposed to be individual songs so much as little tributaries of a big river. We were doing these severe device type of things to find out what we were about, what was our sound. We didn't want to be just like Creedence or Blue Oyster Cult--we wanted to find out what Minutemen were. We would put the limitations on ourselves in order to bring a focus, to try to get some kind of originality. You could make up any rules you wanted to. That was something we gained from the movement. Like with the Pop Group, where they took Captain Beefheart and mixed it with P-Funk. You know, why not? Why not do anything you want? I mean, that sounds naive now, but in those days, from listening to arena rock and records that were more conventional, we thought there were formulas you had to abide by. And the punk movement exploded all that for us."

The Minutemen released five albums, but ended prematurely in late 1985, when D. Boon was killed in a car crash. Watt has dedicated most of his career since that point to Boon's memory. In 1986 songwriter Ed Crawford looked up Watt's number in the phone book, and traveled from his home state of Ohio to San Pedro to convince him to make music again. With Hurley again on drums, they formed fIREHOSE and released the albums Ragin', Full-On (1986), If'n (1987), and Fromohio (1989) on SST. The band then signed to Columbia, releasing Flyin' the Flannel (1991) and the EP Mr. Machinery Operator (1993) before disbanding. Watt's first solo effort, Ball-Hog or Tugboat?, was meant as a kind of philosophic inquiry into the nature of bass playing, although that aspect of the album got lost underneath the avalanche of big-name guest stars. "The title Ball-Hog or Tugboat--I'm talking about the bass," he says. "What is it? Is it going to aid and abet, or is it going to bogart? What am I? The dumb bass player. So it was like this test. But hardly anyone got that. What's obvious to me isn't always obvious to other people."

For the past ten years, Watt has shied away from putting together a permanent band. He recorded his 1997 solo album, Contemplating the Engine Room--a reflection on both his father's life in the navy and his own experiences in the Minutemen--with a trio called the Black Gang, featuring Nels Cline on guitar and Stephen Hodges on drums. Drummer Jerry Trebotic and keyboardist Pete Mazich backed him on his album The Secondman's Middle Stand. On the side he performs in Stephen Perkins' punk/free jazz outfit Banyan; his longest-running band to date is the two-bass duo Dos, with former Black Flag bassist Kira Roessler. "After fIREHOSE, I kind of wanted to stop having bands," he says. "Like, with D. Boon, this was who I played with, so all the music ideas were sent through this paradigm of D. Boon, which for me was okay. But with Ed from Ohio, it seemed kind of unfair to him. Some stuff he liked. Some stuff he was like, 'What the fuck?' I couldn't blame him for that. That's kind of why I ended fIREHOSE. Now I don't really have a band. I put bands together around different projects. Maybe it's like, when you're younger it's easier to have roommates. I'm older. I'm not trying to say, 'Oh, there was this trapped voice and the band was stifling me.' I'm just trying to say that my life has changed a little bit, so the way I make music has changed, too."

And sometimes he prefers not to be in charge. Over the course of the past several years he's done stints as a sideman with Porno for Pyros, J. Mascis's the Fog, and most recently, with the reformed Stooges. "It's trippy, because I feel so tiny," he says. "This is the fucking Stooges. They're a source. They're not derivative of anything. I'd heard them when I was 16. If D. Boon had said, 'In thirty years you're going to be playing with them'--it's just very strange. On purpose I've put myself in a couple of sideman situations, because what I've learned is that you can't learn everything always being the boss. You miss out on a lot, always getting your way. If I'm going to ask people to follow direction, I should learn myself. Life's about playing different roles, anyway. Sometimes you've got to be the skipper, but then sometimes you've got to be deck hand."

Over the next several months, Watt plans on recording three new albums. He's finishing his fourth record with Dos, plus he's currently writing new material for a new guitar-bass-drums trio he's calling the Missingmen. "It's going to be little songs, like in the old days," he says. The Missingmen will tour with the new material in the spring of 2006, then record the album for release in the fall. "Then I've got another plan to go to Cleveland with a bunch of songs and just play 'em with whoever--like John Petkovic from Cobra Verde, and some other people. I liked the idea of Ball-Hog so I want to do it again, but not with such famous people."

I asked Watt toward the end of our conversation what he thought punk rock meant today. I told him that I bummed out when someone gave my five-year-old daughter a London Punk Bratz doll, and that I was disheartened by the huge number of bands who packaged punk for radio and MTV. But he cut through the noise and got at the hear of the matter, reminding me that punk rock is a process, not a product. "If it's some style, especially some shrink-wrapped thing hanging on a wall at Toys 'R' Us, then it won't live, it won't be dynamic," he said. "It becomes exactly what the marketing people want--a genre, something to make their job easier. But if it's something like, 'Everybody's telling me the wall's over there, but I'm going to push against it and see if it's really there'--to me, that's what punk is. An idealistic attitude." That's why I never tire of Watt. I don't have to be punk rock, as long as he is.

---


more watt bio info (written by watt) from the dos page



hires photo of mike watt to use for promo (more shots here):


mike watt self-portrait (using autotimer) in front of his prac pad in san pedro, ca on march 16, 2009 - click here for hires 300dpi jpeg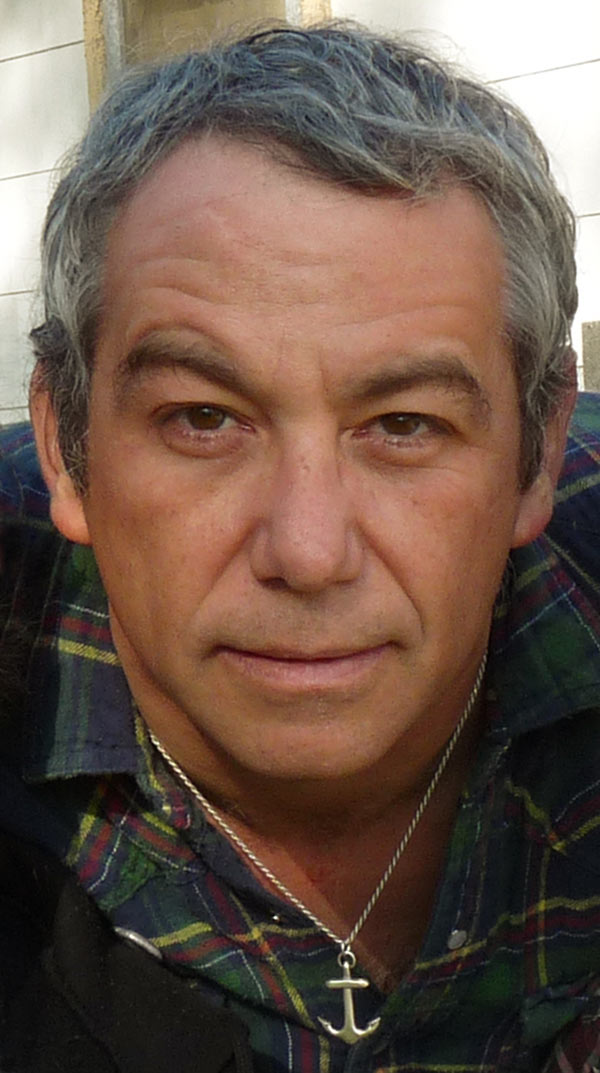 click here for more hires shots of mike watt for use for promo

---
---