here's the machines I work to make the low flow



2018 reverend guitars "wattplower" bass
mark II prototype
design is a total joe naylor/mike watt collaboration
short scale neck, twentyone frets
passive volume/tone controls
joe naylor designed "p-blade" pickup
hipshot 'a style' bridge w/solid brass spacer
strings are loaded through the body
hipshot 'ultralite' tuners
this protoype includes mark I pickup mode
(low strings coil closer to the neck on)
+ mark II mode (low strings coil closer
to the bridge on) selected via
push/pull switch combo tone control
(the high strings coil is always on)




1956 fender precision bass
got it in hermosa beach, ca from beatle bob real econo cuz it was missing pickup
curtis novak "pbird" pickup replaced missing one, another added at the bridge
("pbird" pickup is a split pbass pickup in a thunderbird case - curtis created at my request!)
has a 'v' neck and "thunderbroom" carved into the back of the body
opened up a beasties tour using this w/fIREHOSE
now do lots of my recording w/this baby along w/the moon




1997 moon jj-4-240b (larry graham model) bass
replaced the original single coil bartolini pickups
w/four coil bartolinis (9w4j) and replaced the original
preamp w/an aguilar obp-3 one though it's got
a bypass switch (pull-pot) that I got engaged
mostly! the chicken-head knob is the pickup
blend control cuz the new preamp has three
bands, not two. dig the painted fretboard! for
gigs I used my gibson eb basses w/their short
scale (I'm less younger now!). this is the main
bass I use for recording: no dead spots,
righteous tone and is so smoov! got
this in the mail from chicago, il - yeah, the
fucking mail... never it played it 'till I got
it! well worth the dice roll though.




1966 gibson thunderbird II (non-reverse) bass
"bluey" - my main bass from 1995 - 1999
put in a bartolini pre-amp and grover tuners
snapped it's headstock off and grafted it back
got this one in new york city




1969 gibson eb-3 "the andy bass"
given to me by a very kind man named andy
after all the stooges stuff was stolen
aguilar opb-3 eq and pickup balance and bypass controls
hipshot 2 point super tone bass bridge
custom pick guard
middle bartolini mm42cbjd pickup
bridge lace bassbar pickup
(original pickups removed)




1965 gibson eb-0 "the dan bass"
given to me by a very kind man named dan
after all the stooges stuff was stolen
one rio grande pitbull pickup
(original pickup removed)
schaller bassbridge 2000
custom pick guard




2015 hofner ignition bass
got this china-made version of what hofner
calls their violin bass expressly to do the
"whistle blower" tour for tav falco as one
of the panther burns in the fall of 2015.
I put la bella flat wounds on it and took
off the pickguard. also had to flip the
jack plate over so the jack nut would
screw down tight. real fun bass to play.




1959 gibson eb-2 bass
got this years ago in bethesda, md when
on tour. original pickup replaced w/dimarzio
'model one' pickup. the "baritone button" is
bypassed. great short-scale neck, had to
replace 'banjo tuners' w/firebird ones
w/holes drilled bigger for bass strings




mid 70's gibson les paul signature bass
replaced original pickup w/a curtis novak
humbucker version of his 'dark star' pickup
and wired it directly to the output jack after
removing all the original controls and then
replaced the original bridge w/a hipshot.
I use halfround strings on this bass.
years ago I got les paul to sign it
behind the bridge, joke is on me though -
ironically, it says "to mike, keep on pickin' les paul"
(I pretty much lost being able to play w/a pick!)
got this one in smyrna, ga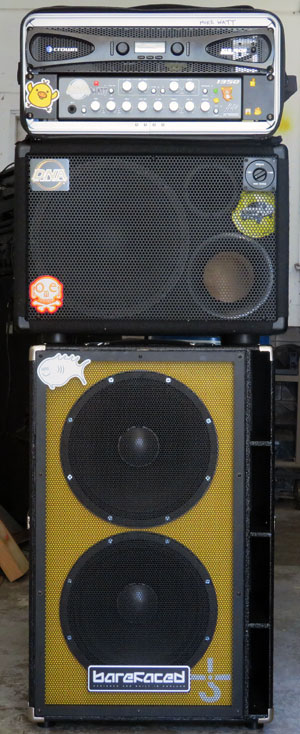 watt's rig for most gigs:
dna 1350 amp
dna dns-112nm speaker cab
barefaced super twin speaker cab
crown xls 1502 (in bridged mode) power amp

---
---