here's a band I go way far with. from phoenix, az is the meat puppets. helped them link up w/sst records back when. always a big inspiration to us minutemen. along w/husker du, we were the trio of trios in the early 80s. dug all those cats!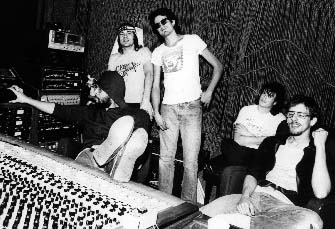 hermosa beach, ca - 1985
(from left) producer/engineer spot, drummer derrick bostrom
guitarist curt kirkwood, bassist cris kirkwood
and bud darrell demarco in the studio recording "up on the sun"
---
---
this page created 18 apr 97